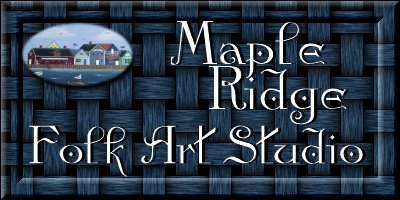 Welcome to Maple Ridge Folk Art Studio! I opened my home based studio in 1996. I am a Priscilla Hauser accredited teacher and I have designed 10 packets, seven of which are listed here. I will be teaching at my first convention in the fall of 1999. Thank you for visiting my website, I hope you enjoy my designs and check back often for new pattern packets I will be adding.......Marilyn Hawkes

Pattern Packets
Best viewed in 800x600 resolution. Click on pictures for larger view.
Packet #101 - Snowy Night
Packet depicting a beautiful moon lit night with children skating and sledding. This was done on an oval box but would also look nice on a plaque.
Price: $9.95 (CDN)
Packet #102 - Christmas Skating Party
I painted this pattern packet on a 16x20 wooden tray. It depicts a community skating party showing children skating, horse drawn sleds, children building snowmen.
Price: $9.95 (CDN)
#103 - Bird Paradise
3 birdhouses, shown painted on 10x7 slate.
Beginners pattern packet.
Price: $8.95 (CDN)
Packet #104 - Breezy Summer Days
Scene of a lovely summer day with sailboats & lighthouses. Shown painted on a stool 17 x 9 x 13 and I painted blueberries on the sides.
Price: $9.95 (CDN)
Packet #105 - Santa delivers to the Island
Living on an Island I just had to paint Santa in a boat. The boat is being pulled by a reindeer. Depicts lighthouse and church on a beautiful moonlit night. Shown painted on a 16x11 lap box.
Price: $9.95
Packet #106 - Dockside
Rural fishing village shown painted on a 14x10 slate, shows our bold and bright colors that are found in many NF rural areas.
Price: $9.95 (CDN)
Packet #107 - Peaceful Fishing
A peaceful day in which a boy is doing more napping than fishing, shows lighthouse and boat. Shown painted on 16x9 slate
Price: $9.95 (CDN)
Packet #108 - Blueberry Farm
Farm scene on wooden covered glass candy dish
Price: $9.95 (CDN)
Packet #109 Christmas Eve
Night scene of Christmas Eve when the presents are quitely waiting in the boat and the lighthouse is decorated for Christmas. Done on a double tin heart which can hold Christmas cards or dried flowers.
Price: $9.95 (CDN)
NEW
Packet #110 Candy Cane Express
Painted on a 11.5 chippendale plate. Shows Santa delivering Candy Canes. A good beginner piece.
Price: $9.98 (CDN)
NEW
Packet #111 Plant Dreams
Depicts a garden angel planting heart seeds. Painted on a pre-primed metal tray. The saying is Plant seeds and watch your dreams grow. Beg - Int.
Price: $9.98 (CDN)
NEW
Packet #112 Christmas Tea
Still life painted on a wooden tray shows graniteware teapot, tin of christmas tea, candle and santa ornament. Holly leaves in each corner. Int-adv.
Price: $9.98 (CDN)
Wholesale Prices Available
Last Updated: 11/10/99

Ordering Information:
To place an order online using my secure shopping cart click here!
Maple Ridge Folk Art Studio
Marilyn Hawkes
General Delivery
Whiteway, NF, Canada A0b 3L0
Phone #:709-588-2282
E-mail: Maple Ridge Folk Art Studio

Shipping: surface or airmail
Shipping Charges: Shipping rates vary with destination. Charges will be calculated at time of order.
Mail Orders: Mail orders to the address listed to the left.
Email Orders: Maple Ridge Folk Art Studio
Phone Orders: 709-588-2282
Payment Options: Money Order, Cheque or Visa
Secure Online Ordering: Maple Ridge Folk Art Studio Shopping Cart


Banner Exchange sponsored by Craft Central

All content & graphics © 1999 Marilyn Hawkes &/or TJH Web Design
All Rights Reserved
Nothing on this website (including all photos, pages, text, graphics, etc...) may be reproduced in anyway without the express written permission of copyright holder(s). All painting patterns offered for sale on this website are © 1998, 1999 Marilyn Hawkes and may not lawfully be used in anyway without the purchase of the pattern or the written consent of the owner.