| | |
| --- | --- |
| | Welcome to Lilac Lane Folk Art Studio! Cheryl's love of painting started back in 1990. She has continued to grow and develop in the Decorative Art field by teaching and sharing in her home studi as well as travel teaching. She has recently designed and published 20 pattern packets and has three websites set up that proudly display her designs. Cheryl will also be teaching at Kaswood 2000 in Toronto, Canada and will have her work published in National Magazines in 2000. She is also involved in local Artisan Shows and Studio Tours as well as supplying several shops with her products. Custom work on Milkcans, Old Saws, Irons and Wooden Furniture have become her speciality. |

Pattern Packets
Some pictures link to a larger picture. Picture will open in a new window.

Christmas Countdown
A quick and easy project for all levels of painters. This gingerbread man is attached to a Chalkboard which is complete with chalk holder and banner.
All Levels
$6.95
Santa's Workshop
Santa is working hard getting ready for Christmas in his Workshop. He will welcome your quests indoors or out.
2 photos - Intermediate
Pattern Packet: $8.95
Wood Piece: $14.95
Teddy "Bee-Catcher" Chalkboard
This design of a Teddy Bear catching Bees is painted on a Chalkboard with a Checkerboard frame, Beehive and chalkholder.
2 photos - Intermediate Level
$8.95
Wood pieces available at Lilac Lane Studio.
Apple Chalkboard
These apples and trailing leaves are painted on a chalkboard complete with vine trim on frame, chalkholder and cinnamon sticks to compliment the design.
2 photos - Intermediate Level
$8.95
Shadow Lake Milkcan Winter Scene
A deer keeps a watchful eye in this peaceful scene on a Cold Winter morning in Canada.
Intermediate $8.95
Crystal Lake Milkcan Summer Scene
Pines ,White Birch and Bullrushes surround this peaceful early morning scene while two loons swim graciously by.
Intermediate $8.95
No Trespasn'Farm Scene on Old Milk Bottle
A fall scene with an old Log Cabin adorn this old milk bottle.
2 photos - Intermediate Level
$8.95
Potato Bin
This multipurpose bin is whitewashed then accented with vines, leaves and luscious grapes trailing down the front. These leaves are gorgeous but incredibly easy.
Intermediate
$8.95
Roses & Lilacs
Roses, Lilacs and stroke leaves are painted on an old 78 rpm record.
1 photo
$7.95
Maple Leaf Pin & Earring with Berries
Paint up a set of 'Truly Canadian' jewelry in the shape of a Maple Leaf with berries. 1 photo
$7.95
More Packets....

Ordering Information

Lilac Lane Folk Art Studio
Cheryl Lafferty
Howland Junction Road, R.R.#1 Kinmount, Ontario, Canada
K0M2A0
Phone# (705)488-3423
Email: Lilac Lane Folk Art Studio

Wholesale Inquiries Welcome!
Links to more of my pattern packets:

Simply....Our Best!

Painting Seminars & Pattern Packets by Cheryl Lafferty

Graphics & Webpage design by: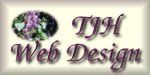 Banner Exchange sponsored by Craft Central


All content & graphics © 1999 Cheryl Lafferty and/or TJH Web Design
All Rights Reserved
Nothing on this website (including all photos, pages, text, graphics, etc...) may be reproduced in anyway without the express written permission of copyright holder(s). All painting patterns offered for sale on this website are © 1998, 1999 Cheryl Lafferty and may not lawfully be used in anyway without the purchase of the pattern or the written consent of the owner.