More Pattern Packets

Teddy Bear Pin & Earrings
No matter what your age, who can resist little teddy bears. This adorable teddy is painted on a Puffed Heart Pin. Beginner/Intermediate
$6.95
Roses & Lilacs Evening Bag
Painting on fabric is fun. This elegant design is done on a Satin Evening Bag, however would look great on an Apron, Denim Shirt or even running shoes. The possibilities are endless. A quick, easy project. Intermediate $8.95
Wild Strawberry Votive Holder
Juicy red strawberries and strokes leaves decorate this candle holder. Learn how to paint a faux finish on a doily background. Beginner/Intermediate $7.95
Forget-Me-Not Votive Holder
Grace the center of your table with this simple design. Learn how to achieve a doily effect while painting simple ribbon and flowers. Beginner/intermediate
$7.95
Garden Bouquet Soap Dispenser
Mums, Rosebud and tiny flowers accent this versatile wood piece. It can be used as a cover for your hand lotion or soap dispenser. An interesting faux finish is achieved with pearlizer.
Beginner/Intermediate $8.95
Burnt River Night on Slate
This evening scene is painted on an Antique Slate Roofing Shingle, but would look great painted on any wood or metal piece. Intermediate
$7.95
Summer Roses Peg Rack
Soft Pink Roses surrounded by soft leaves and flowers adorn this useful peg rack. A pearl finish gives this piece a Victorian look.
Intermediate Level $8.95
Back...



Banner Exchange sponsored by Craft Central
Graphics & Webpage design by: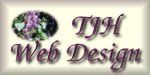 All content & graphics © 1999 Cheryl Lafferty and/or TJH Web Design
All Rights Reserved
Nothing on this website (including all photos, pages, text, graphics, etc...) may be reproduced in anyway without the express written permission of copyright holder(s). All painting patterns offered for sale on this website are © 1998, 1999 Cheryl Lafferty and may not lawfully be used in anyway without the purchase of the pattern or the written consent of the owner.